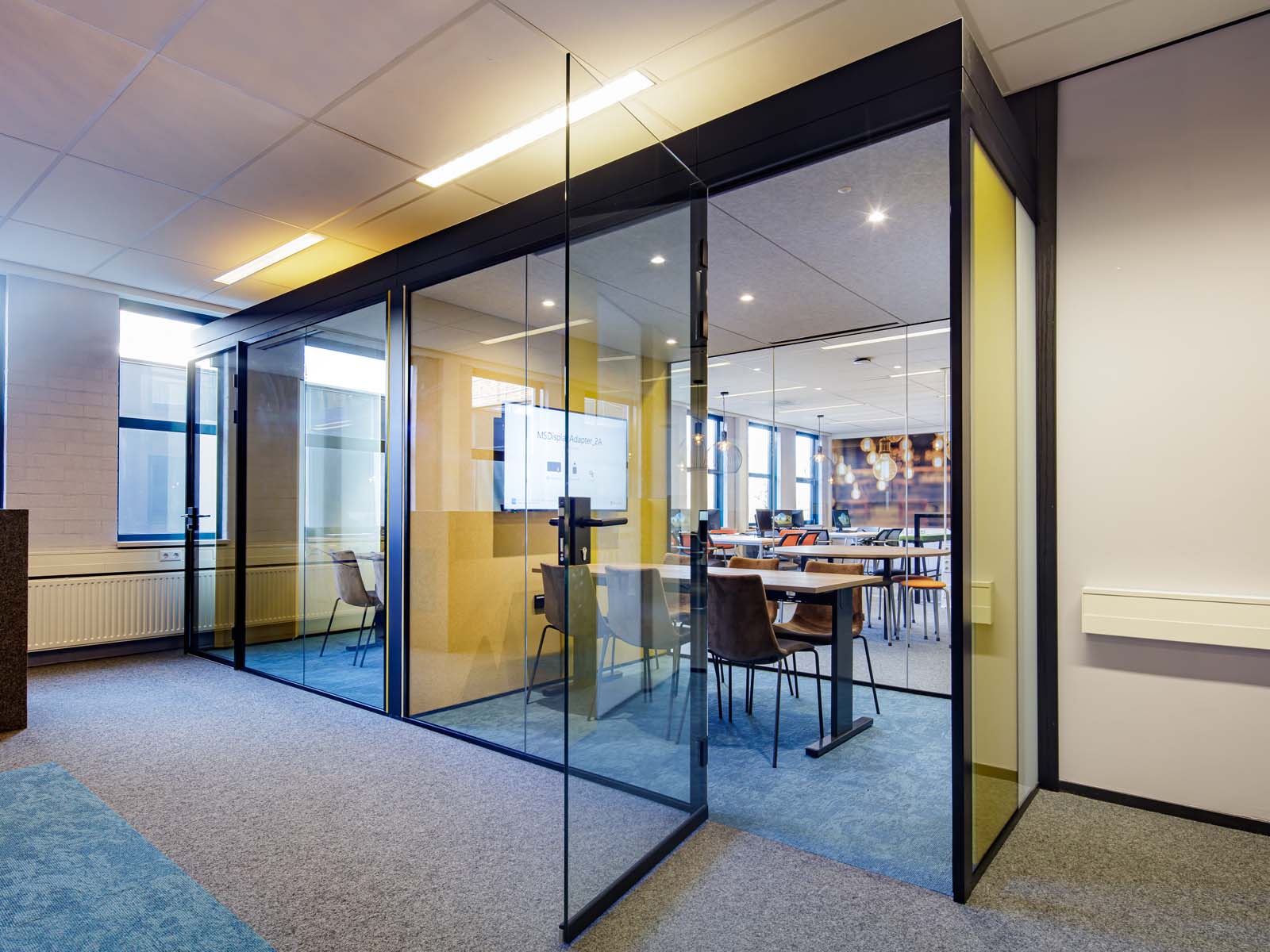 De Rooi Pannen Eindhoven
De Rooi Pannen Eindhoven
Interior design with an eye to the future
De Rooi Pannen, a school for VMBO and MBO, is always looking for new forms of learning that match (future) objectives. Theory lessons are alternated with practical projects and collaboration is alternated with individual work. Still Design realized a space in which all different forms of education are facilitated.
Make a connection
Rene Moone, head concierge and facility employee at De Rooi Pannen location Eindhoven, is happy to tell you more about the project. "We have a catering management training here and we have to make a connection between different grades. They need to collaborate and communicate more within different projects. For one of the projects, the students have to start their own company. To do this, they must seek each other out and consult each other. We didn't really want a living room for this, but it had to lean towards it a bit. Students should feel at ease, be able to gain inspiration and meet in a safe environment without losing transparency. That's how we came up with the idea to break out the wall of two large classrooms and place two Bubbles in them. The idea is that the students could still look from one side to the other, but at the same time meet in the middle."
Still Design assisted in the execution of this project. "I got to know Still Design through the Facility and Building Management trade fair in Utrecht," he says. "We came to them when we already had a specific idea of ​​how it should be. Subsequently, they contributed ideas on many points. Because of course there are also things that we don't think about. Still Design has helped us with questions such as: how can we remove the walls? How can we ensure that everything will work properly in the future? How do we deal with ICT? Still Design had good ideas about that."
"Pupils even come to school especially to sit quietly in a Bubble. That's what we want."
Neatly arranged from A to Z
After the full plan has been worked out, the realization has started. "The mechanics who came here to disassemble the existing interior were real professionals. They thought along, gave tips and left the workplace clean. There was also good communication throughout the entire process: there were no surprises for me. It was neatly arranged from A to Z. And we really didn't have to worry about anything."
"Sitting in the Bubble"
De Rooi Pannen now has flexible options for organizing education. For example, teaching can take place in one part of the room, while students can withdraw in peace in the Bubble to meet or work on their schoolwork.
The placement of the cabins is widely appreciated at De Rooi Pannen. Not only students, but also employees like to use the space. From the transparent Bubbles there is a pleasant view with the advantage of a secluded (work) place. "Our expectations were really exceeded!"
---------------------------------------------------------------------------------------------------

Project in brief:
- Client: educational institution De Rooi Pannen
- Location: Eindhoven
- Assignment: create a transparent space with two 'Bubbles'
- Objective: to enable different forms of education